Red and blue light as far as the eye can see – gliding in undulating waves across a field surrounded by darkness in Lelystad, Netherlands. An impressive art installation, yet much more than that, GROW is inspired by science that explores how certain "recipes" of light can improve the growth and resilience of plants.
"Most of the time, we hardly notice the vast agricultural areas of the earth that feed us," the Rotterdam-based designer had observed. He wanted to do something about that and went into intensive exchange with scientists such as the world's leading expert on plant photobiology, Prof. Dr. Wargent. GROW is a fascinating project, says the Chief Science Officer at BioLumic.
GROW is extraordinary agriculture
"The GROW light installation is supported by scientific research showing that certain formulations of blue, red and ultraviolet light can promote plant growth and reduce pesticide use by up to 50%," explains the scientist, who was also part of the team of designers and experts led by Daan Roosegaarde.
Over a two-year period, they met at Studio Roosegaarde, Wageningen University & Research, the Springtij Forum and the World Economic Forum in Davos. Through their collaborative thinking and the creative power of Studio Roosegaarde, the word "agri-culture" takes on new meaning as it reinterprets landscapes as living, cultural works of art.
Roosegaarde himself describes his installation more poetically as "a dream landscape." According to the visionary, it consists of a design-based lighting recipe that illuminates a field of more than 20,000 square meters - in the project launch, it was leek plants.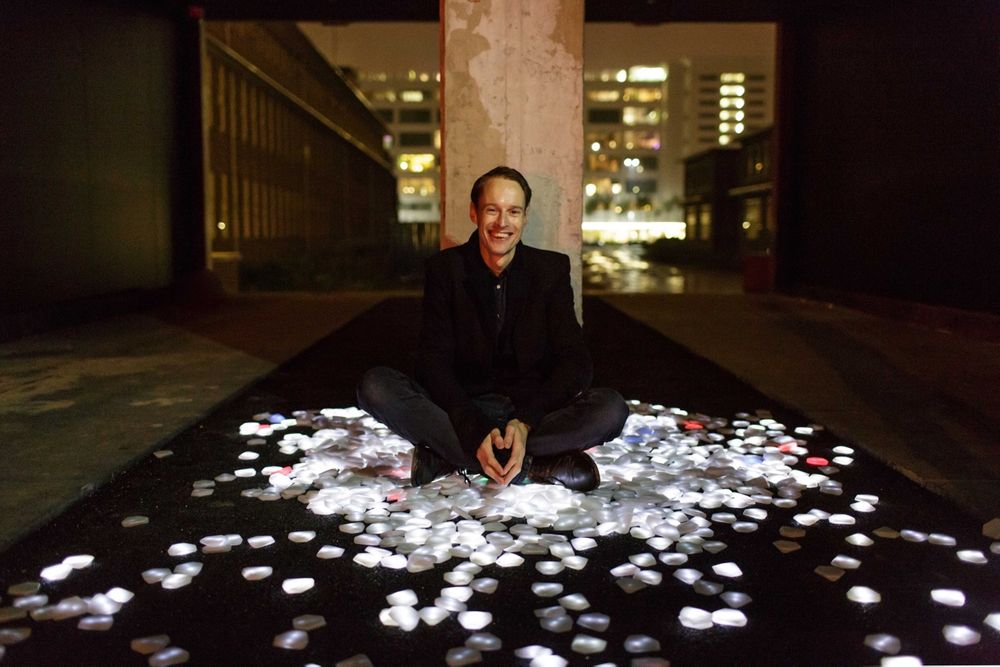 Together for sustainable agriculture
The light installation is part of Rabobank's artist-in-residence program, which uses its savings products to support projects against food waste around the world.
"It's really inspiring to work with an artist like Daan Roosegaarde on how we can create a better world togehter."
So enthuses Wiebe Draijer, Chairman of the Board, Rabobank, emphasizing on the importance of innovation in the agricultural system. The questions that Roosegaarde keeps asking itself during the project also occupy the bank: How can modern lighting design help plants grow more sustainably? How can we create awareness for sustainable issues? And how can we make the farmer a hero?

Improving plant growth worldwide
Roosegaarde's answer: show the beauty of light and sustainability not just as a utopia, but as a protopia that improves step by step. Roosesgaarde's plan: to use the blue and red light to improve plant growth in 40 more countries and help farmers in the long term.
In this way, the word "agri-culture" takes on new meaning as it reinterprets landscapes as living, cultural works of art.
The film GROW shows that the project can be good for nature while sending a hopeful light to people.
In recent years, the Dutchman has created numerous installations with light, as well as other sustainability projects, such as the Smog Free Tower, which we reported on. The tower filters the dirt particles out of the air in metropolises heavily polluted by smog, gives people space to breathe again and even makes beautiful jewelry out of the dirt particles.
More about the Dutch designer: Website Studio Roosegaarde
Headerimage: @Daan Roosegaarde