You registered as a volunteer with UNICEF at the age of 17 and have been passionate advocates of children's rights ever since. How did this come about?
I had an active role at UNICEF in the presentation of the Children's Rights Treaty in New York. This treaty became an integral part of my life, because I believe that we could live in a much more peaceful world, if we would respect the rights of children. I wanted to become a teacher in the beginning, but eventually became a musician and the right solution for me was to combine the two together. So for example, in every adventure of the duck Alfred J. Kwak from my theatre show, a lesson on children's rights are hidden.
4 of the 17 sustainable development goals deal with the rights of children to a better life. Does that give you hope?
At this moment, one billion children have an uncertain future. No one can guarantee that they will grow older than twelve years. That says a lot about our society.  They are about 20 percent of the world's population, but it really doesn't seem to matter. I am convinced that the world will still have a chance, when the children are doing well - not the other way around.
The UN Convention on the Rights of the Child has been in existence since 1989 - but these rights are often trampled underfoot. What goes wrong?
In Dutch we say: je bent de kind van de rekening. "You are the child of a bill." It is always economics, power and control that are still prioritised over children's rights.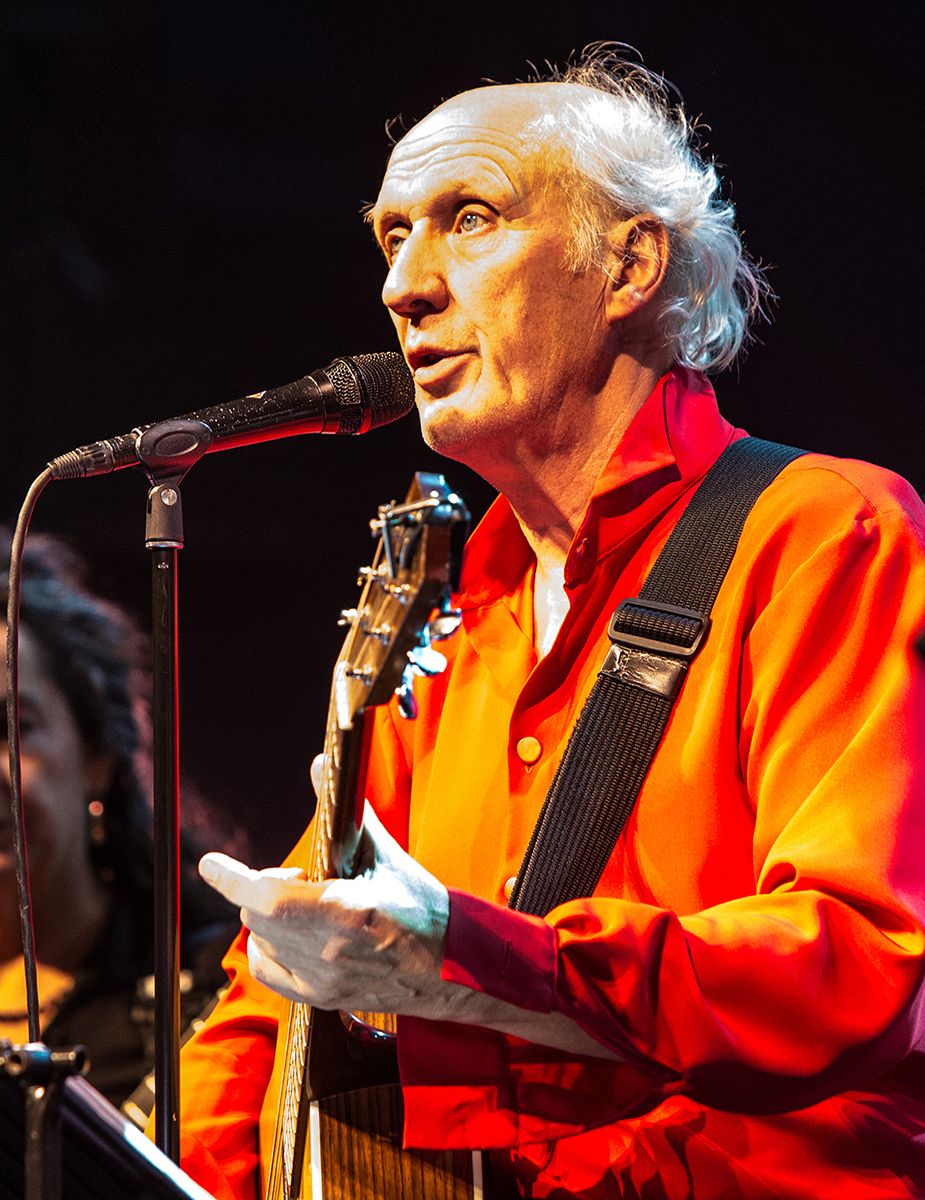 What was the most beautiful thing you experienced in the many years of your commitment to child rights?
The first thing that comes to mind is that in the National Park De Hoge Veluwe, the largest nature reserve in the Netherlands, we erected a monument as a tribute to the Unknown Soldier. Imagine a circle of stones, which are as big as children and brought to the Netherlands from all over the world. One can stand there and share a moment with all the children we have lost, the ones who have been at war, were trafficked, or victims of violence. Like this, the art centre on the De Paltz estate in Soest hosts a miniature of this monument, and on it, the beautiful poem 'Ein stiller Schrei' (a silent scream) is inscribed.
Your concerts are sold out long in advance, and whoever attends, raves about it for a long time. How do you experience these moments?
A performance like this is like snow. You can not store it. It is a moment that you experience together. Each in its own way. To enjoy this is a privilege.
In an old song of yours, "Weg da", which means "Get out of the way!" the lyrics say: "We have no tiny minute, no tiny second left, we must hurry." It seems that these words are very relevant in today's time?
Back then it meant being late and therefore having missed something. As a result of this hurry you end up in a situation which is confusing and leads to an uncontrollable momentum, in which you try to prevent an avalanche. In Dutch there is a saying: Think carefully about the consequences. Because to me, this situation happended  often.
For Herman van Veen, humor is the key to ... ?
"Relief"
Children and young people are demanding – not only since the movement Fridays for – that we leave our planet to them as we ourselves have inherited it from our parents. What do you think about this demand from young people?
I was born during the Second World War. My Parents have done everything to ensure that this war came to an end. And when the end was in sight, they had the courage to have children who could grow up in a better world than those they had come to know: the one with two world wars. So I was allowed to grow 75 years old in peace.
But just last week I read an interview from my peer John de Vos, a palaeontologist who hopes that today's digital revolution will be the last of mankind's acceleration process, so that the earth can sigh a sigh of relief and nature can blossom again. I sat quietly after reading this interview for a while, looked outside and was grateful to him that he makes it so clear what a huge task we are facing, to give our species another chance. A chance I deeply believe is needed. And I want to stand up for every tree in nature.
What other projects for the children is coming up next? What are you planning right now?
At the moment we are very busy with preparing the performance "Broken Glass". This is about a Syrian Girl who fled to the Netherlands and ardently desires to dance like in Thousand and One Nights. But her family forbids it. She does it nevertheless - and it all ends well.
About the artist: With his profoundly humorous songs, Herman van Veen inspires his audience. The Goodwill Ambassador of UNICEF has been awarded, among others with the Federal Cross of Merit for his special services to the German-Dutch relations or more recently with the Joachim Ringelnatz Prize.
Since 1963 he has been involved in the fight for the rights of the children of the world in a number of ways. He is the creator of Alfred J. Kwak, a brave duckling, which achieved world fame. To date van Veen has published 175 CDs, 21 DVDs, 70 books and dozens of scripts.
Headerpicture: © Jesse Willems
Translation from German to English: Sayanti Sengupta