How a Dutchman artistically improves your ecological footprint
Taking a deep breath and feeling refreshed is almost impossible in most major cities around the world today. The reason for this: Air pollution. On a bad day, the smog inhaled in central London is roughly equivalent to smoking 70 cigarettes. In Beijing you can't even look across the street to pedestrians on the other side. But designer Daan Roosegaarde no longer wanted to accept this and started looking for a way to turn the smog into clean air. And thus began the journey of Smog Free towers, an effective example of unusual invention and transformation design.
"Most of them declared me crazy," says the Dutch inventor, who was not discouraged by such feedback. Together with his team from Studio Roosegaarde, which he founded in 2007, and the Technical University of Eindhoven, he developed the corresponding technique: An electrostatic field housed in a tower that pulls 30,000 cubic meters of smog particles out of the air per hour. "It's like a giant vacuum cleaner," explains Roosegaarde. The sucking tower absorbs the smog from the volume of a football stadium within one and a half days and creates - depending on the air circulation - up to 70% clean air.
The first smog-free tower was financed with the help of a kick-start campaign and was erected in 2015 next to the Dreamfactory in Rotterdam, the headquarters of Roosegaardes Designlab. Afterwards, the ambitious and creative design artist went on a major tour of China. "I convinced the government in Beijing to erect a smog-free tower," says Daniel proudly.
Shanghai, where Roosegaarde has a branch office, and other Chinese cities followed quickly in erecting these towers. Since the beginning of the year, a smog-free tower has also been erected in Poland. In India, Mexico and Colombia, the seven-meter-high technological masterpieces are scheduled for completion by the end of the year 2020.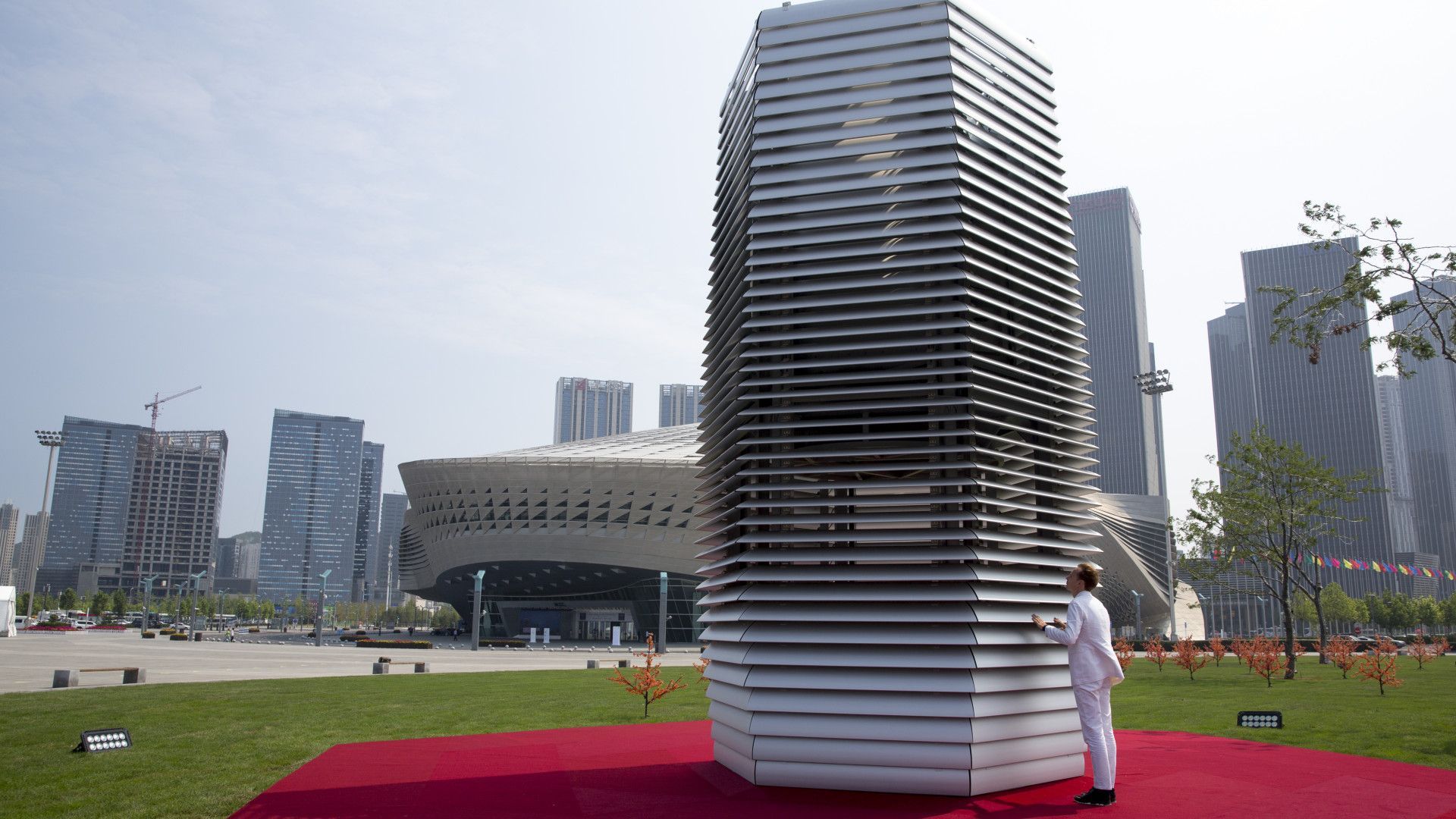 And what happens to the collected smog then? Rings are made from it. Pressed and placed in a glass box, the filigree carbon dioxide cuboids cost 250 euros each. They are usually bought by wedding couples or others who have the future of the planet at heart, the creator knows.
Other innovative bi-products are the Smog Free cuff links. The proceeds from these are reinvested in new projects. One of the upcoming project ideas involve the Smog-Free-Bicycle. It works with the same technology as the Smog-Free-Tower: polluted air is sucked in and filtered by a device on the steering wheel, so that clean air can be inhaled while driving, explains Roosegaarde. The prototype is scheduled to be ready this year.
But even if the smog-free project continues to grow, it will not solve today's problems such as rising sea levels, CO2 emissions and air pollution. Roosegaarde is aware of this. "But I don't want to wait for change, I want to create it myself," says the 39-year-old, who compares himself to a tennis ball machine that spits out ideas instead of balls. In order for these ideas to become reality, he needs partners. These could be municipalities, as well as companies and museums. They finance 60 percent of the projects and Studio Roosegaarde finances the other 40 percent itself.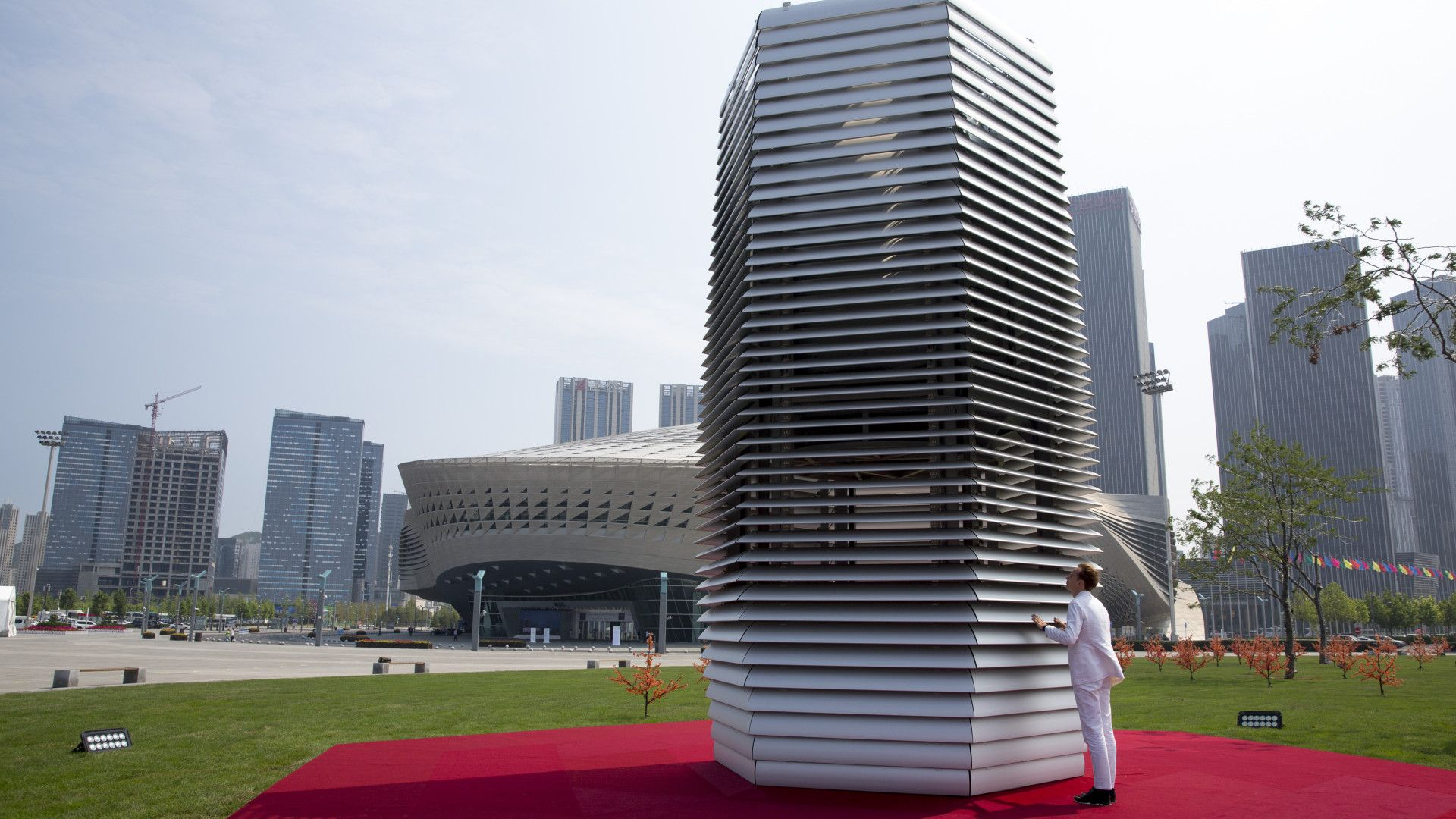 This is how, for example, the Van Gogh Path in Eindhoven was created, which consists of 50,000 fluorescent stones to show cyclists the way in the dark without using energy. Or Waterlicht, an installation that simulates the rising sea water levels with blue light.
Roosegaarde is currently working on other projects that mainly use biotechnology, such as Gates of Lights, an example of an energy-neutral landscape that uses prisms to reflect the light from vehicles. And in his Space Waste Lab, he dedicates himself to up-cycle space waste from broken rockets and satellites into sustainable experiences in space. And one of their current solution involves turning space waste into artificial shooting stars!
The artist wishes that in the future he would no longer be alone with his work, but that a movement would emerge from it:
"Let us use technology and creativity together to change the world, and rather think in terms of suggestions rather than problems . "
Participate:
Whether cities, municipalities or museums - Roosegaardes towers that keep their surroundings smog-free can be used anywhere. www.studioroosegaarde.net
Header picture: © Studio Roosegaarde
Translation from German to English: Sayanti Sengupta