Dusty jumper boots, black trousers and a safety vest: Angelina Jolie climbs over heaps of debris and rubble, past the stretches of ruins, dust and destruction. The apocalyptic scenery of a completely destroyed city, however, is not from a Hollywood set, but the bitter reality of Mossul.
The city in Iraq, once so rich in cultural life, was catastrophically destroyed in June 2018, one year after liberation. "This is the worst devastation I have seen in all my years with the UNHCR," explains the special envoy to UN during her fifth visit to Iraq. "These people have lost everything and the trauma and loss they have suffered are unprecedented."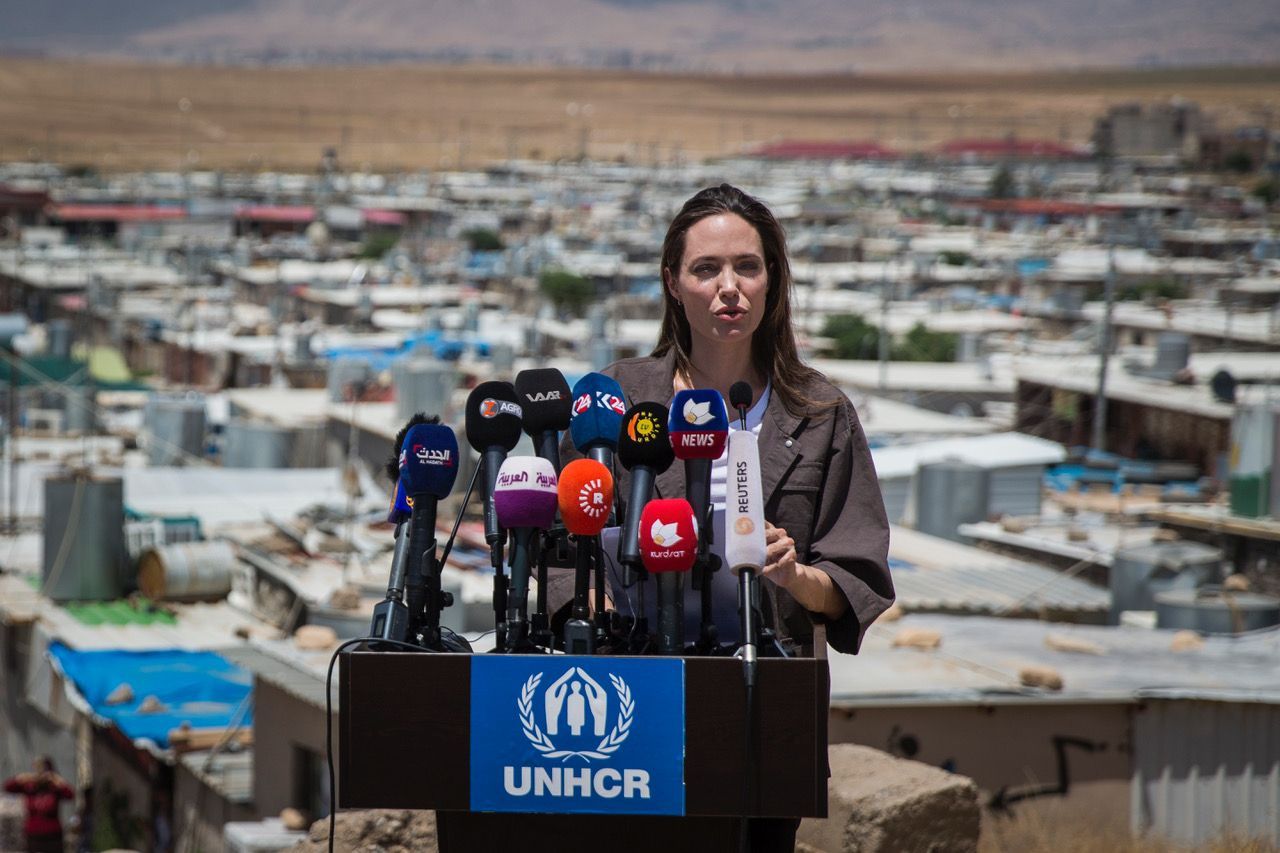 Twenty years for human rights
Angelina Jolie has been dedicated to promoting the cause of refugees and displaced persons for almost two decades now. After representing UNHCR from 2001-2012 as the Goodwill Ambassador, she was appointed as the Special Envoy of the UNHCR in April 2012. Since then she has been visiting refugee camps and crisis areas all over the world in more than 60 missions in order to get a first-hand insight into situations and lives of the people there.
It was the shooting for the film Tomb Raider in 2000 in Cambodia that awakened her desire to work for humanitarian purposes. The then 25-year-old felt great reverence for the people of the country traumatized by the Khmer Rouge terror regime and their ability to maintain their dignity despite great poverty. This had lasting impressions on Jolie's mind which went on to shape her life from then on.
Shortly thereafter she adopted her first child: the Cambodian boy Maddox, later Pax from Vietnam and the Ethiopian Zahara, before she had three more children with Brad Pitt.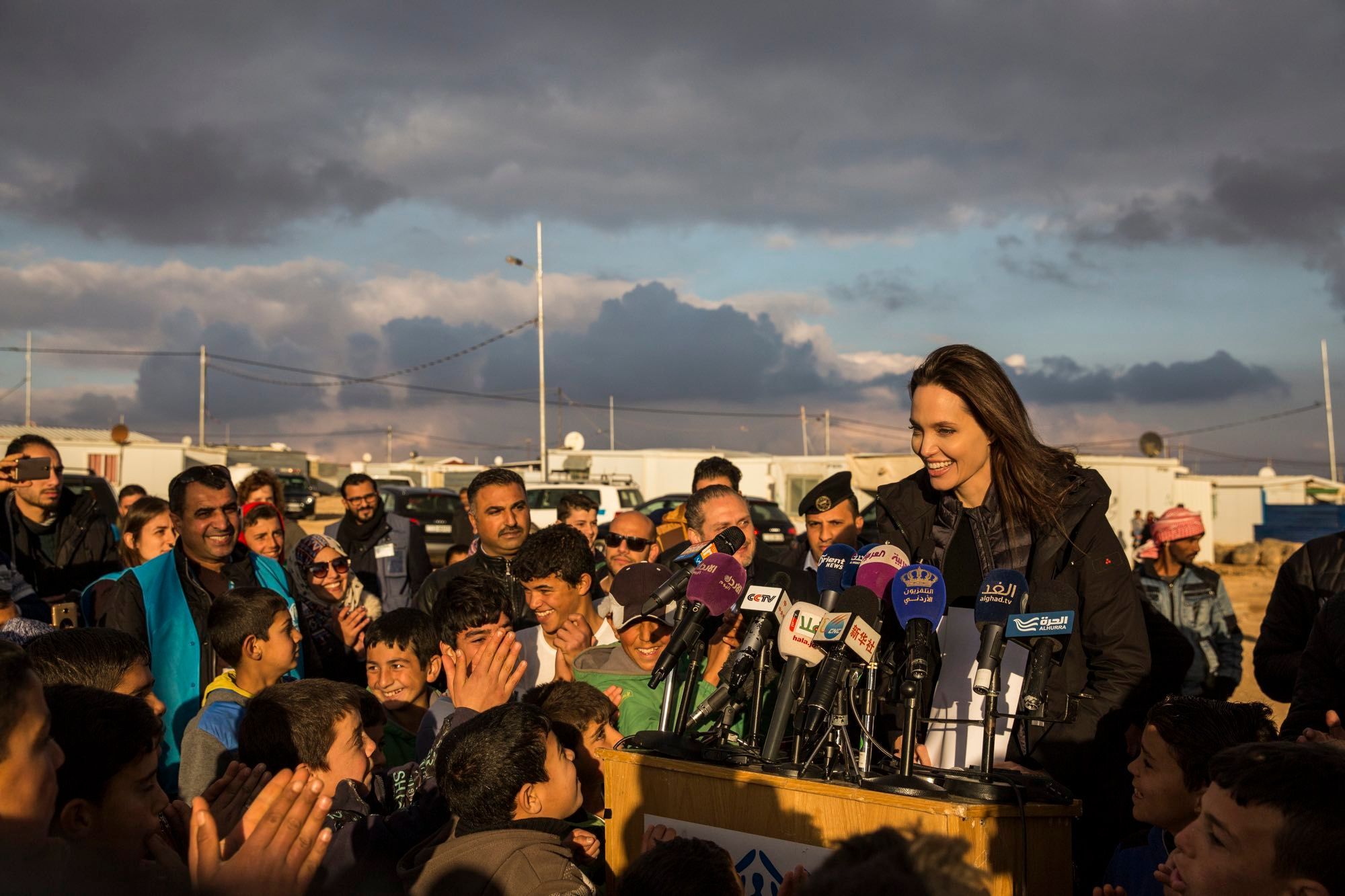 Celebrity attracts attention
The global fame of being an Oscar winner is a strong lever and she uses it in the most fruitful way possible. As Special Envoy, she represents the UN Refugee Commission and the High Commissioner at diplomatic levels and is working on creating long-term solutions in the major conflict zones in the world. Through her work, she intends to draw attention to the rights and fates of displaced people and refugees worldwide.
Knowing the importance of her role, she appeals time and again to the Heads of State and Governments and calls on them for action. During her trip to Colombia in June 2019 to meet the refugees in Venezuela, she stepped in front of the press microphones and reminded the ones listening: "Leadership means assuming responsibility, just as generations before us have done to respond to threats to peace and security, and to create a right-based world order." Behind her loomed a sea of tents in the world's largest refugee camp currently.
"Today we need humanity more than ever," she continued, "and we need the rational thinking of people who are not afraid of taking responsibility and showing leadership."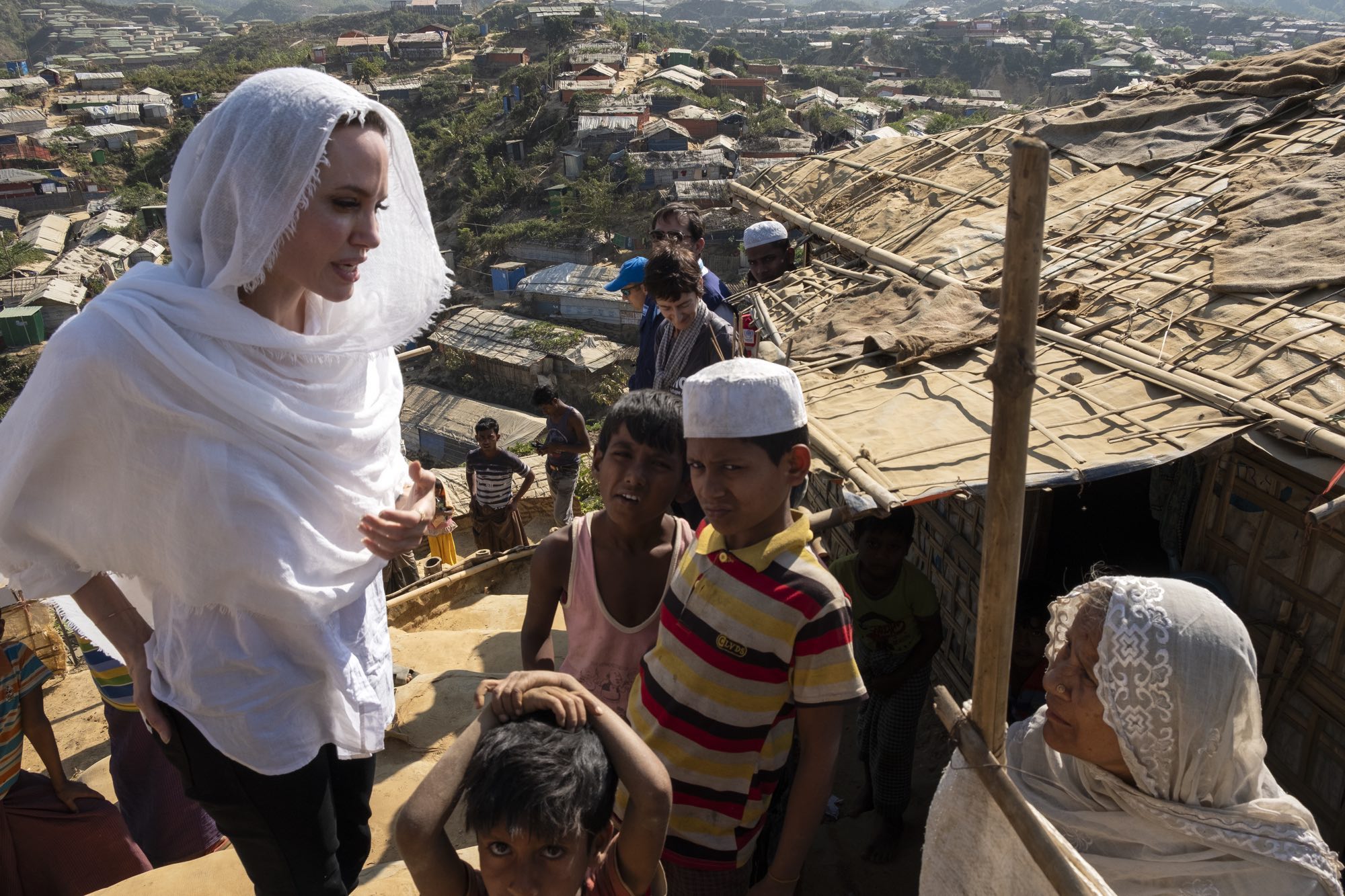 When Angelina Jolie visits the refugees, she talks to many people and hears their fates. Stories of the 17-year-old blind Ester who had to leave Venezuela with her family because there was no access to medical care for her there. Or the 90-year-old Rohinya in a refugee camp in Bangladesh, who has never experienced peace in her life and has been displaced more than she could remember. Or even he young Syrian from a break-dance group in the Jordanian Za'atari camp, who continues to dream that girls in Syria will assume leading roles in the future. They all want nothing more than to return to their own countries and have a life in safety. Such stories inspire her to continue her relentless fight against violence and promoting a safe world for the refugees.
Jolie's empathy touches lives
Angelina Jolie listens, caresses and embraces, gives comfort, laughs with the children, empathizes with their struggles and encourages again and again. The people she talks with feel that their voices are being heard and their sufferings are taken seriously.
Ruud Lubbers, former High Commissioner, worked with Jolie for four years. In the foreword to her book "Notes from my travels" he writes: "Angelina has far exceeded my expectations. She has helped to make the fates of the refugees tangible. Her generosity and compassion are an inspiration to all of us," Lubbers said.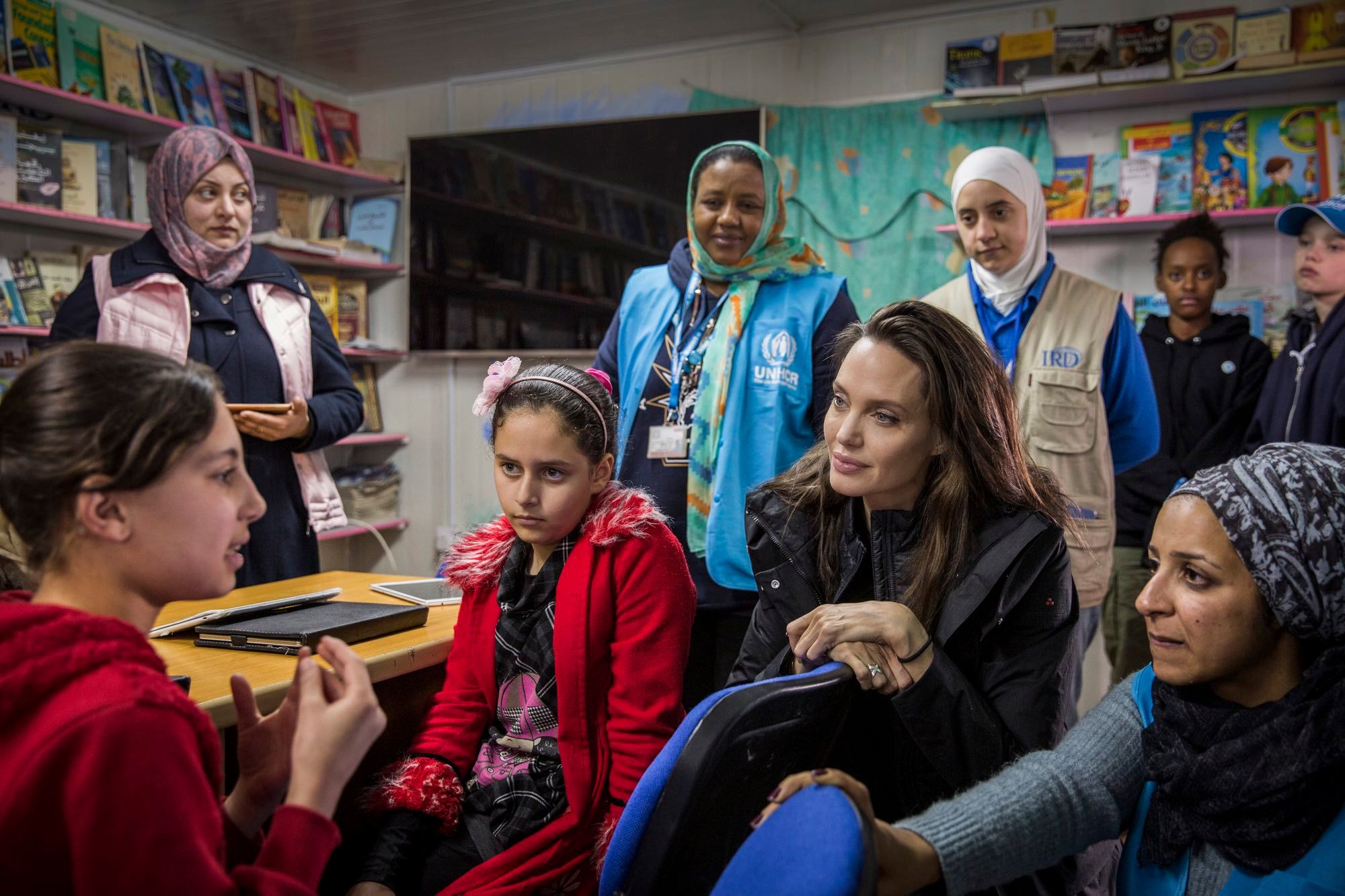 A mother of six, an actress, a director, a screenwriter, a producer. She could have chosen a different life within the comforts and glamour of Hollywood or involved herself within the bounds of her family. But she wants to do more than that. And she succeeds by going far beyond and inspiring others who want to get involved: she inspires us to leave our comfort zones.
For the people, for the cause, for a better world. Just as millions of volunteers do every day - be it for environment, animals or the climate, human rights, gender equality or even the local sports club. With a high level of dedication and personal commitment, empathy and steadfastness, Angelina Jolie remains one of those people who continue to move the world.
Join in:
Helping at the regional level:
More information: Landesflüchtlingsräte of the federal states: www.fluechtlingsrat.de.
On www.bamf.de under "Welcome in Germany" and "Citizen commitment" one finds hundreds of projects, in order to bring oneself in
Helping at international level:
Header picture: ©UNHCR/Andrew Mc Connell
Translation from German to English: Sayanti Sengupta