The nominated Blogs for July are:
1) Alexandra from livelifegreen and her blog post "No racism, no climate change - climate protection is colourful" - exciting and enlightening, how she brings racism and climate protection together
2) The latest post from Sarah's blog minimalwaste fits perfectly to Plastic Free July: "How to avoid garbage on the go"- with many practical tips for beginners and professionals
3) In its latest post, the blog Nerd up makes a declaration of love for cycling: "How to: Commute safely, healthy and environmentally-friendly in times of COVID-19 and climate change"
4) The Albert-Schweitzer-Stiftung, in its latest press release "Stopping animal transports," calls for stopping live animal transports to countries outside the European Union - their petition can be signed directly in the post
5) In her new blog called "Fast Fashion vs. Fair Fashion" on green miracle, Nina has taken up the topic of fast fashion and explains the differences while giving tips to her readers
6) Cordula from Wir essen Pflanzen, gives great tips on how to avoid food waste in her blog "8 Tips on avoiding food waste."
7) In the latest article "Digitalization by Corona: For more female influence" from the blog Moinworld, an exciting view on the topic of gender equality in the tech industry is presented.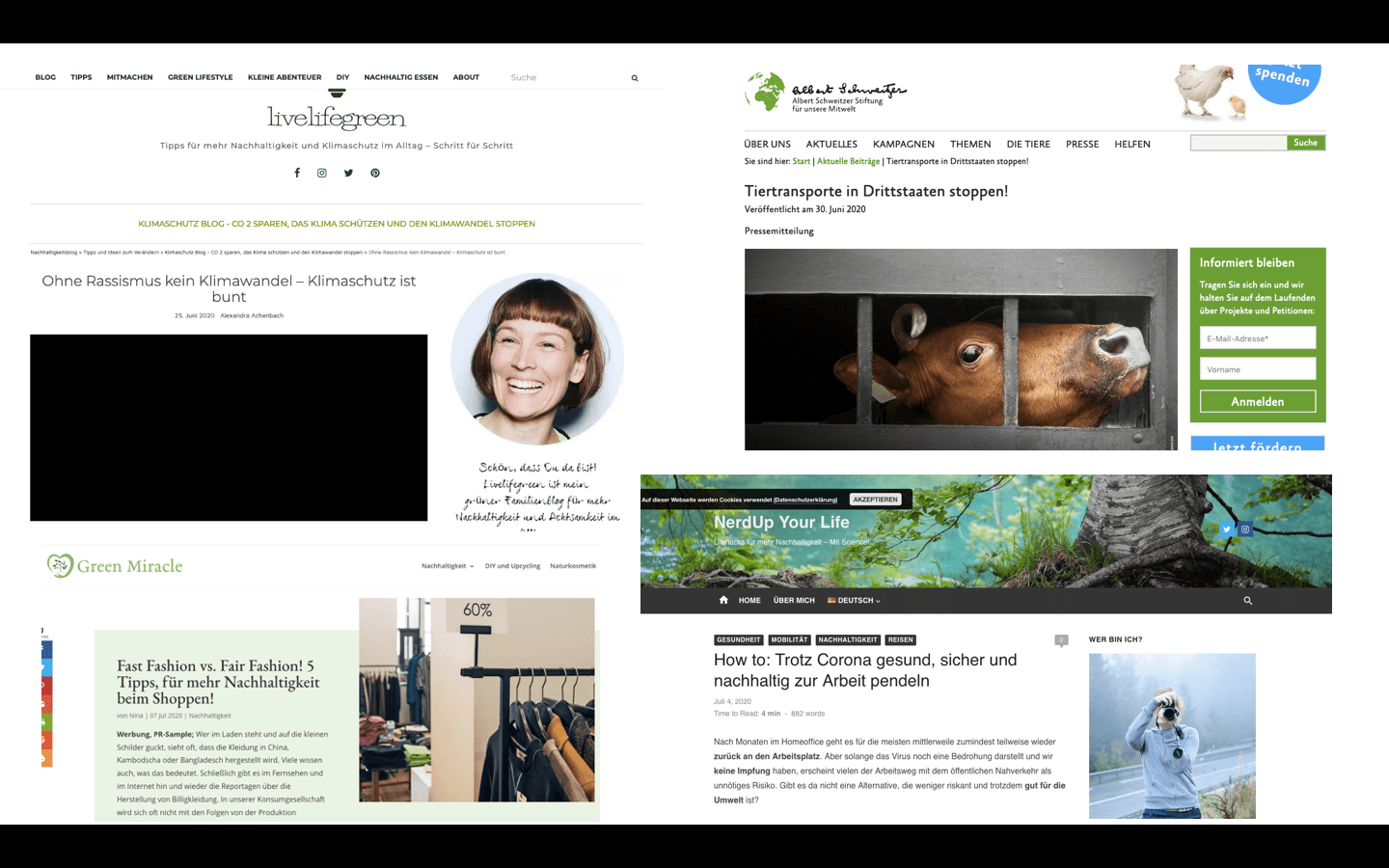 Now that we have such a great list of nominees with highly interesting and varied contributions - choosing a blog award winner will not be an easy task! However, we have some pointers to help us make the right choice.
Our selection criteria:
Which SDG is picked up thematically in the contribution?
What is the impact of the contribution?
Does it show ways in which readers can become active themselves?
How creative is the contribution and how relevant is it?
How practical is the topic?
And of course, a good writing style earns the extra brownie points!
So while you read our nominated blogs, we will finalize our winner. And we look forward to announcing and presenting the winner here shortly!
PS: If you find the articles are only in German with no English version, make sure to use the Google translate option for these pages, because you definitely don't want to miss them!